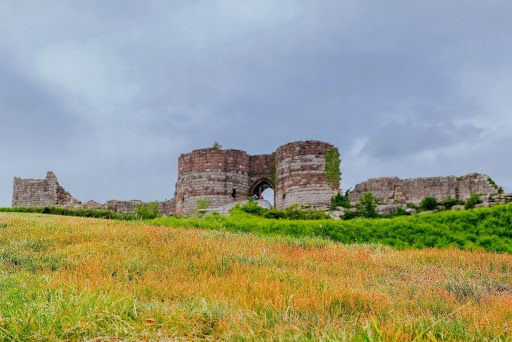 Guest article provided by: zententia.net
Beeston Castle
Whatever stage of lockdown your country is in, outdoor adventures are still possible. These do not have to be across the border or across the country, there are probably plenty of local sites you never made time to see. Obviously I haven't invented this – I remember coming across 'Micro Adventures' years ago – but now is a good time to emphasise the beauty of your own surroundings.
Here is an example. I live near Beeston castle. You could do a beautiful hike there over the course of two days, a good day-long bicycle tour, or, as we did, because England eased up on some COVID-19 measures and we were all vaccinated, we joined a friend in a car. I reckon bus would be an option in same places too, but the local bus infrastructure isn't too good up here. Oh, and I would like to point out that a combination is also possible: a few weeks ago, we cycled to a park to meet friends who had opted to drive there. Definitely also check out Jesse's post on Zententia.net for further advice on safe travel.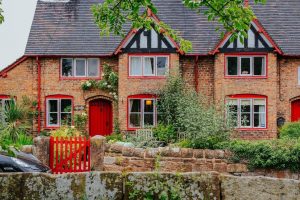 Beautiful Bunbury houses. Photo from zententia.net.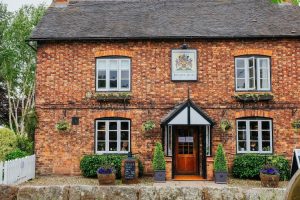 The Dysart Arms in Bunbury. Photo from zententia.net.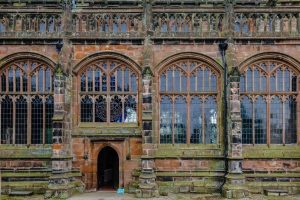 St Boniface's Church in Bunbury, Cheshire. Photo from zententia.net.
In any case, I will get on to Beeston in a moment. We made a small detour on our way there and had lunch at a lovely pub in Bunbury. We booked a table in advance, specifying we only wanted to eat outdoors. The pub had a check-in system with the NHS and also a one-way system around the venue, and although it was a sunny Sunday it was not too busy. We ordered food through an app at our table, which was really easy (although we all missed being able to browse the beer on tap!).
To be honest, Bunbury was the highlight of the day for me. For one, I would love to one day own one of those (800,000 pound) houses there. But also, it has a really charming, old, church. They reckon the site has been used for more than a millennium, probably originally for a wooden Anglo-Saxon church, and then a Norman church.
Most of the St Boniface Church you can see today dates to the 14th century, which is just amazing. We saw it across from the pub and I just thought 'could it be?!'. (I am not a church architecture expert but I can generally tell the Pretty Old from the Really Quite Old). We went in, and found stunning wooden panels dating to the mid-15th century with images of Saint Catherine, Saint Apollonia, and Saint Anthony of Egypt (don't worry, I didn't recognise them – there was a sign!).
Other bits were added in the 16th century, including the Ridely Chapel, which has "the only substantial painted medieval screen to survive in Cheshire" (again, there was a sign). Right in the middle of the chancel lies the huge tomb and effigy of Sir Hugh Calveley, who was a proper medieval knight. He fought in the 'Hundred Years' War' (which notably didn't actually last a hundred years), and his family had a manor in Bunbury. There was some old graffiti engraved on his tomb – I spotted the year 1650!
A very modern touch was the photographs of all the parishioners on the church benches. Obviously, because of COVID-19, they have not been able to meet – but this way they are there together in spirit anyway.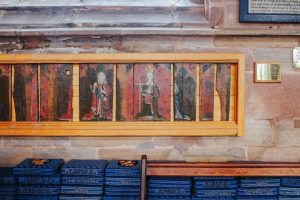 The wooden panels in St Boniface's Church. Photo from zententia.net.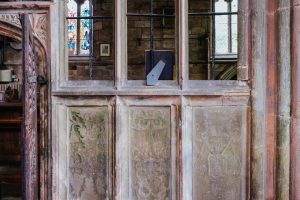 … and the stone panels in St Boniface's church. Photo from zententia.net.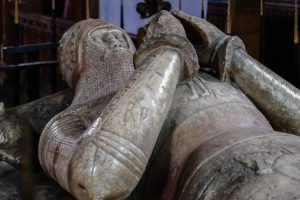 Tomb of Sir Hugh Calveley. Photo from zententia.net.
Some ancient graffiti on Sir Hugh. Photo from zententia.net.
Okay, then we actually made our way to Beeston Castle. The Castle is currently operating a ticket-based system, so we booked our timeslot online a week before we went. I have to say, it was pretty expensive! (9 GBP each for adults.) They also have a one-way walking system around the entire site. Despite it being a busy, sunny Sunday, we found it was quiet, and very easy to keep our distance from people. We took our time and saw everything there was to see in about an hour and a half. Parking was also ticketed, I believe 3 pounds; but a lovely couple that was leaving gave us their ticket so that sorted that out.
There was not loads of information around the place, but we picked up a handy map with a few highlights. I reckon they prefer that people buy the guidebook, but we are obviously too cheap for that. Of course, we have the internet though. There's not all that much left of Beeston Castle today, and the main draw for visitors is the fact that you can see eight countries from the top of it. We had fun trying to work out where Chester and Liverpool were. It is a pretty good site for a castle, that is for sure!
Perhaps the most exciting bit, in my opinion, is that vantage points like these are often used time and time again by different civilisations. That was of course the case here: archaeologists have found evidence of Neolithic settlement, and, notably, Bronze Age occupation. They have created a beautiful (and I do not say this often about reconstructions!) replica of a Bronze Age round house, which is just a bit down the hill from the castle. We had a peek through the windows, and it even smelled like a proper roundhouse. Highly recommend venturing down there.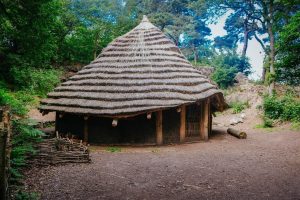 The Bronze Age Roundhouse at Beeston. Photo from zententia.net.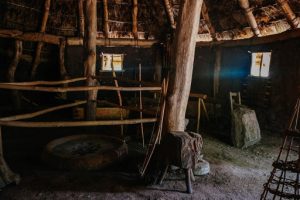 A look inside the roundhouse. Photo from zententia.net.
Beeston castle itself was built in the 13th century (ooh even older than the Bunbury church) and used for a fairly long time, even seeing through the English Civil War – until Cromwell took down some of it in the 16th century, and then it was just used as a quarry for a bit in the 18th century. It has an inner and outer bailey, with towers and a gatehouse, and there is a crazy 100+ meter deep well in there. We saw a child balance on the edge and were so relieved to find it is closed off with protective railing ha. (N.b. the entrance gates down the hill are also impressive, but a later Victorian addition. Fun fact: they also plonked down some kangaroos there, to make the site more attractive!)
I would love to see a re-construction somewhere because it is hard to imagine who would have been in there, and how they lived and worked. Most of the grounds are uneven, hilly, grass, so it is difficult to even work out what the surface was. (It is very possible Beeston has a visitor's centre which we missed due to COVID-19 restrictions. Next time!) It used to be known as 'the castle of the rock' so in my imagination it is very much Game of Thrones now.
Look at that, living out our local Game of Thrones adventures. If it hadn't been for the pandemic I would have surely been on an airplane (well, a train; I am trying to reduce my carbon footprint) to the Mediterranean coast, to explore castles there, and I would have never considered seeing so much of my local area. Maybe it is a form of Stockholm syndrome, but I am starting to quite like it here.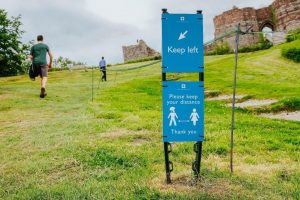 COVID-19 measures at Beeston Castle. Photo from zententia.net.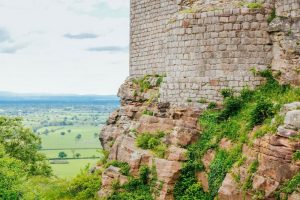 The walls of the castle. Photo from zententia.net.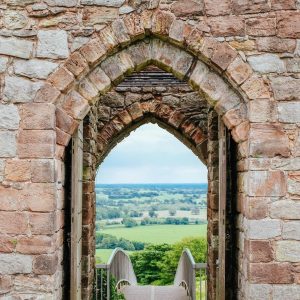 Beautiful gate into the castle. Photo from zententia.net.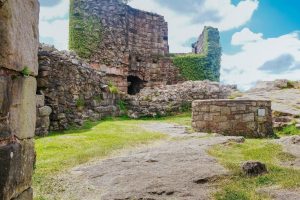 The crazy deep well inside the castle. Photo from zententia.net.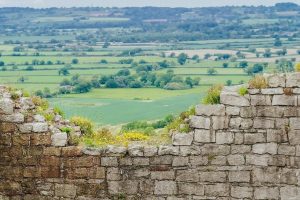 Trying to spot all 8 countries from Beeston Castle. Photo from zententia.net.