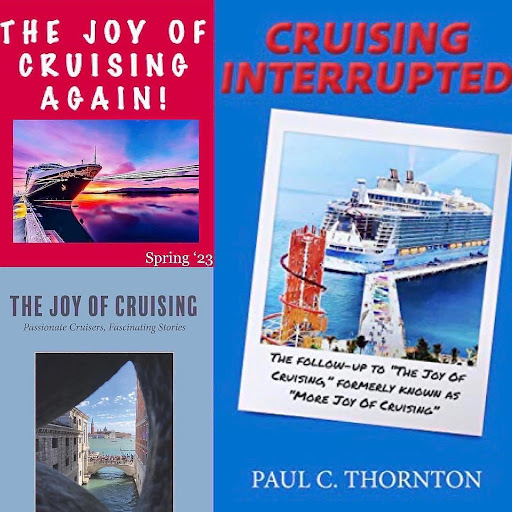 Guest article provided by: thejoyofcruising.net
My passion is cruising on the ocean. The only pastime I enjoy nearly as much as cruising is writing about cruising. I have written a couple of cruise books, The Joy of Cruising and Cruising Interrupted. The books are fun collections of cruising narratives, compendiums of profiles of cruisers who are passionate, have interesting stories and perspectives, and embody the joy of cruising. Some are well-known, even celebrities (Grammy Winner, TV Star, Poker Hall of Famer—each with a fascinating cruising narrative); many are like some of you, "ordinary cruisers" with extraordinary stories! One story that I call a modern-day fairy tale: a United Kingdom woman who had never cruised before, chosen to be UK's first non-royal, non-celebrity cruise ship Godmother! Even if you have never cruised but aspire to cruise, or simply enjoy storytelling, the books are a fun read.

I am currently writing The Joy of Cruising Again—a fitting end to the trilogy celebrating the return of cruising post-lockdown. The Joy of Cruising Again will be published in Spring 2023
following a couple of bucket list cruises I will be sailing: the Mediterranean on Celebrity Beyond in October 2022, and The Smooth Jazz Cruise in January 2023 where I plan to interview some of the performers.

When complete, the three books in the series will have featured 75 individuals, couples, and companies from all over the world ranging in age from 2-96. The Joy of Cruising Again continues in the tradition of fascinating stories about individuals passionate about cruising. Two
Guinness Book of World honorees! And we'll be bringing back regular sections like "Cruisers Like You and Me…Sort Of" with features like Bucket List Publications and Living On Cruise Ships; or, "Cruising's Young and Restless" featuring Gen Z cruisers you want to get to know (because you will probably be hearing from them in the future); and, a new section called "Ship Life" featuring previous and current cruise ship crew members with each one representing a unique cruising story, like The Singing Maitre D' or Cruise Ship Diaries or The Captain.

Imagine a fun story about a mom who cruises within months of each other with her two small children on the new Royal Caribbean Wonder of the Seas, and the Disney Wish—when
she is not busy cage diving with great white sharks, driving Formula One race cars, flying
biplanes upside down, or jumping out of perfectly good ones! No, I couldn't imagine it
either—until I had a blast writing about it in The Joy of Cruising Again.
Coming soon excerpts at https://www.thejoyofcruising.net/blog
Paul C. Thornton